Innovative medical services and cutting-edge healthcare provision are an increasingly important key element for the growing economies of the Arab states. Together with rising demand for preventative care and digital medical solutions, the healthcare market in the Arab states is expected to grow at a very high level. Increased investor interests, as well as the growing populations in the region will also play a role in expanding the current GCC market to more than USD 71 billion. Experts predict that the UAE's healthcare market alone is set to surge to more than USD 28 billion by 2021 – representing a growth of 60% over the next five years. In order to cope with this fast development, all Arab countries have ambitious plans to reform and device their health sectors. 
On the other hand, the highly innovative health industry in Germany is well known as a major hub for medical technology, medical treatment, and pharmaceuticals. Due to the unparalleled level of collaboration between science, research, industry, and medicine, Germany is becoming a prime location for medical tourism as well.
To further enhance the business potential for Arab- German partnerships in the healthcare sector, the Ghorfa Arab-German Chamber of Commerce and Industry, in cooperation with its Arab and German partners, will host the
11th Arab-German Health Forum
from 16th – 17th April 2018
in Berlin, Germany.
The forum brings together experts and decision-makers from business, politics and science to mutually address the most pressing issues facing medicine and healthcare in the coming decade. The United Arab Emirates is the partner country of the forum.
For the 11th time, the event will be the major information and networking platform to establish and strengthen long-lasting Arab-German business relationships in the healthcare sector. Around 300 high-ranking decision-makers will review current trends and projects in the Arab countries and Germany.
We are looking forward to welcoming you to the 11th Arab-German Health Forum.
Organizer:

In cooperation with:
Healthcare Guide 2018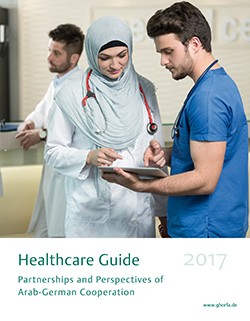 Just on time for the 10th Arab-German Health Forum we are going to publish the 5th edition of the "Healthcare Guide- Partnerships and Perspectives of Arab-German Cooperation". We warmly invite you to contribute to the next edition. Excerpt Healthcare Guide 2017
We would like to offer companies from the health sector the opportunity to present their projects by publishing a short editorial project report. Furthermore you can present your enterprise, products and services on one page in the chapter "Company Presentation" or place an advertisement.
The editorial articles should inform about projects that were planned or are already successfully accomplished. This includes cooperation in the field of education, staff training and human resources exchange programs, IT and communication solutions, Pharmaceutical and Biotech, Medical Technology and planning, building and managing healthcare facilities. The chapter "Medical Tourism" offers regions, cities, hospitals or hotels the opportunity to introduce the advantages of a special healthcare location.
We warmly invite you to contribute to the next edition by delivering a project proposal. Please complete the interest form and send it to us until January, 19th. Media data
If you have any further questions please contact:
Tatjana Arnold
Tel.: +49-30-27 89 07-11
E-Mail: arnold(at)ghorfa.de